I-I don't know what to say anymore. This series had progressively start breaking my brain since episode 8 and I think it reaches new heights of WTF-ness currently @_@;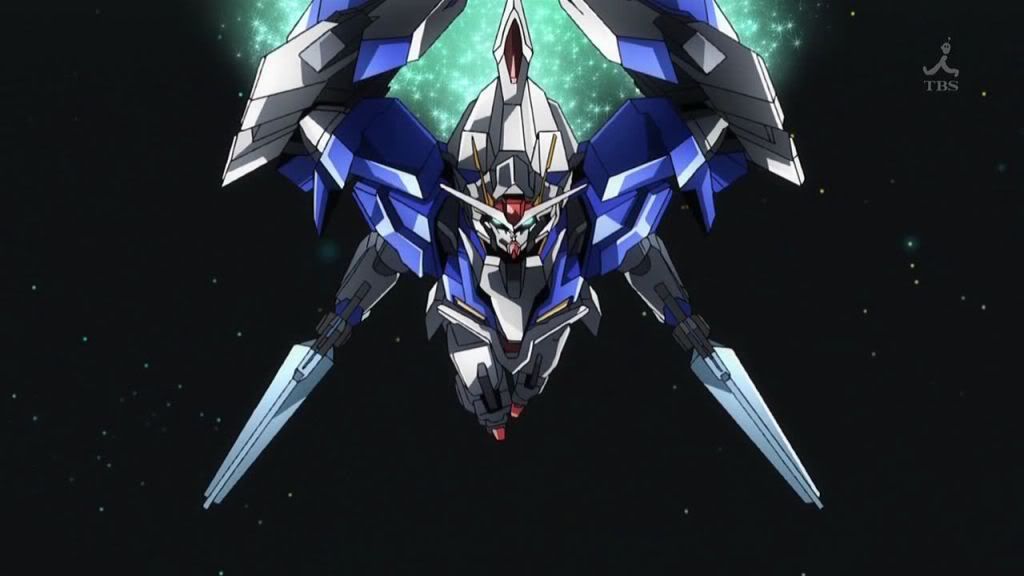 I find myself switching between "FUCK YESSSSSS!!!!" to "OH FUCK YOU DID NOT JUST DO THAT!" every two minutes or so >_>; IT IS VERY TIRING ON MY MONDAY-HEAVY BRAIN DAMN YOU SUNRISE.

Let's have a run down of how it makes me happy one moment and decides to kill me the next mm?

+01. Soma kicking ass. I missed Soma. Seriously, let her pilot Arios already!
-01. Allelujah reverting to say "Marie Marie Marie" like a broken record. Gaahh!

+02. Cherudim's shield bits' OFFENSIVE MODE? AWESOMEEE <3
-02. Ribbons. Animating him must be really easy. I'm just thankful he has an awesome VA.

+03. OH SUNRISE YOU KNOW WE WANNA SEE THE FAIRY DUST TRANS-AM kicking asses in general<3
-03. Can 00-Raiser just finished kicking Hilling's ass before dashing off?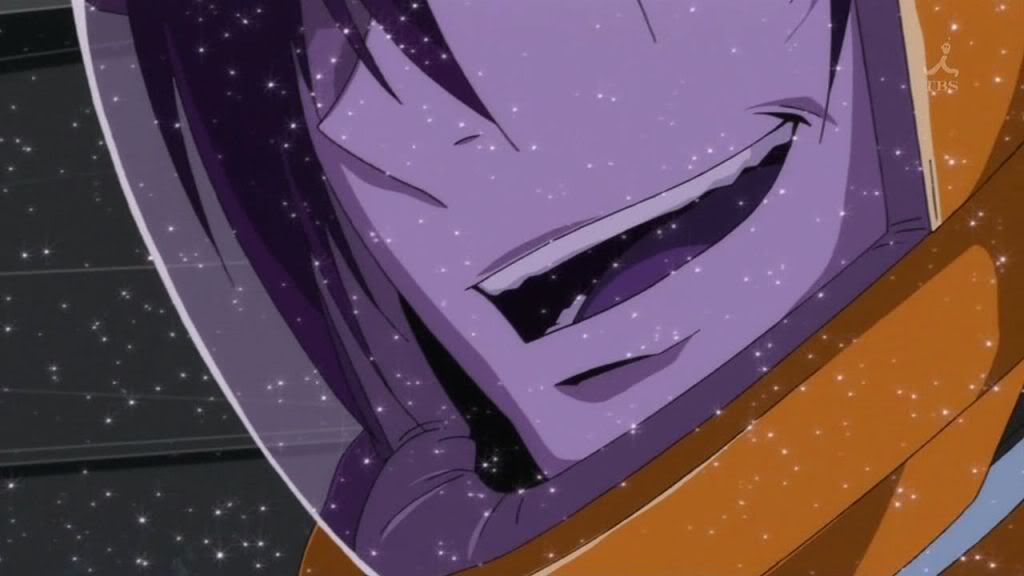 Because he's ~FABULOUS~


-04. Wait WHAT. Hallelujah has about ... 30 seconds screen time in total? AHGJSHDGJHDHDHS!!!!

+05. Setsuna's line <3 <3 "We're neither weapons nor destroyers" I'm so PROUD OF SETCHAN OKAY?
-05. Oh crap, those weirdassed naked sequence again

+06. Saji and Louise reunion. Oh gawd I want a happy ending for these two SO BAD. Also, oh Saji &hearts You make me cry T__T
-06. Andrei SHUT UP SHUT UP SHUT UP!!!!!

+07. Soma proceeding to kick Andrei's ass, in the name of the Wild Bear of Russia! AWESOME
-07. OKAY ALLE, I MIGHT NEED TO STUFF YOU IN YOUR ROOM FOR A WEEK NOW IF YOU KEEP DOING THIS.

+08. OH HAMU. I MISSED YOU!
-08. Wait, Hamu, you're NOT doing anything at all? WHY ARE YOU EVEN HERE?

+09. Saji's resolve. I want to give the poor boy a huge hug T__T
-09. ANDREI AND HIS THICKHEADED-NESS. *headdesk*


And this is where my brain started to break down after all the adrenaline rush from the PEW PEW PEW-ing all over the screen.

-10. OH SNAP ANEW OH SNAP OH SNAP OH SNAPP I MIGHT JUST START HATING YOU IF ANYTHING HAPPENS TO MY BRIDGE BUNNIES ( Lasseeeeeee!!! ) But if I know my 00, they probably won't kill someone off with just an off-screen gunshot sound effect :\ I HOPE
-11. Fuck you Nena and your creepy laugh. I hate you more than I hate Wang Liu Mei. Dienowkthxbai.


Also, undecided.

# Regene. I LIKE HIS REBELLIOUS CHARACTER. But I have this thing against that whole maternity clothes squadron in general >_>;
# The Agents. Is it time for the fridge now? @_@; Okay I don't like Wang and her manipulation but stuffing them out without explaining WHAT THE HELL does she really wants since the beginning get on my nerves. A lot.

Also, WHAT IS HAPPENING TO MY SETCHAN? I DEMAND TO KNOW ;A;

S-SIX more episodes to go (;A;)


And forgot to say! New layout shameless pimping! &hearts


hydeism
hydeism
hydeism
hydeism
hydeism



Okay not so new. I had it since last week but I had not the energy to update whoops? 8D;;